Working with
Brick, Stone & Block Paving
On the left is a short slideshow of my work to produce a new block paving path way and steps down to a block paving patio area from a rather neglected starting point as you can see. There was also a stone edging to the pathway. All this was transformed within a week of starting. This example used Autumn Leaf block paving in three different sizes, but there are many different types, colours, textures and sizes available.
I can build brick walls, steps, arches, etc. using engineering bricks, soft bricks and LBCs in a variety of different bonds. This image shows an example of my block paving and brick wall construction.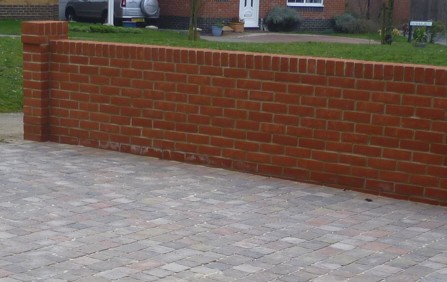 I can also utilise natural stone for garden features including decorative walls, pond edging, etc. Please go to my Landscaping page for other garden design building work.
Contact: Robert Foster - 07883 243244