Firstly - Flintwork.
There is so much beautiful flintwork around Saffron Walden, Hadstock, Linton and surrounding areas of Essex, Cambridgeshire and Suffolk that needs careful looking after to preserve our heritage. I have not only worked on repointing, repairing and restoring these flint walls and buildings but have created new flint work walling to replace our villages precious flint walling when some is falling into oblivion. I will work with you on the precise requirements for flint laying or new flint wall work using the correct materials to ensure a long life for these amazing flint works of art.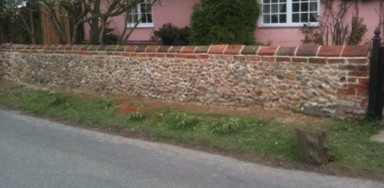 It is not easy to find an expert in flint wall repairs these days, but if you are around the Saffron Walden - Cambridge - Haverhill area you have the ability to access Robert Foster for all types of flint restoration, repairs and rebuilding. Flint walls are the most common to fall into disrepair and need specialist care to repair, repoint or restore the flintwork using the correct materials to suit the period and to ensure the best lifespan of the work carried out.
If you require an honest and reliable specialist for flint work please call me - Rob - for an informal but informed chat about how best to proceed.
Stone Work and Brick Work.
I have great experience working with brick and stone and with other materials for your garden and exterior layouts. Please go to my Brickwork, Block Paving and Stone Work page

or to Landscaping for other garden design building and pond construction.
Contact:
Robert Foster
-
07883 243244